Picketing for pay raises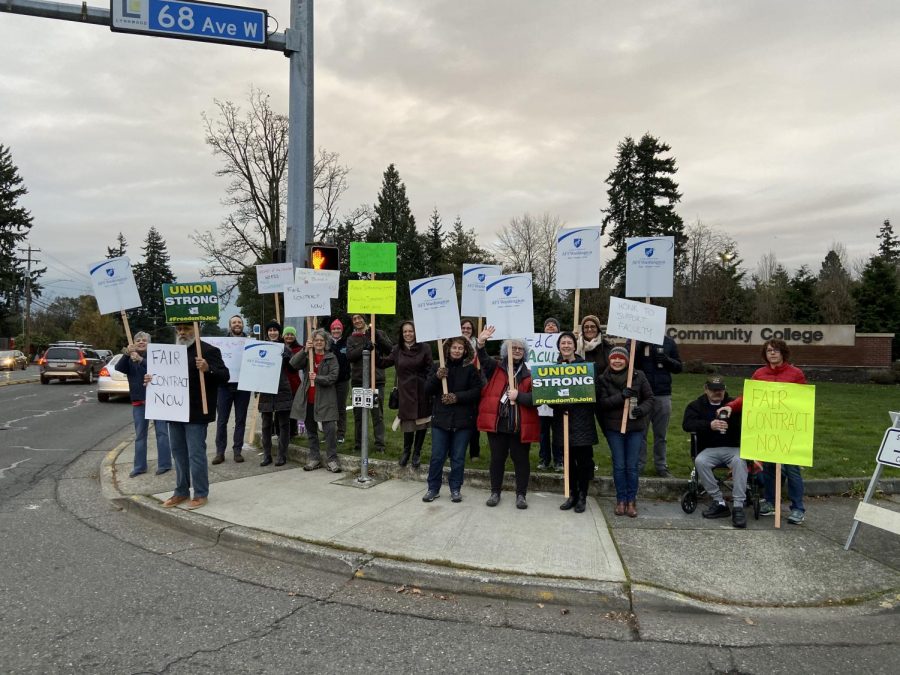 Faculty at Edmonds Community College have been gathering weekly at the school's entrance, clad in bright red shirts and hoisting signs protesting what they say are unfair wages.
In the photo to the left, faculty member Daniel Griesbach expresses his discontent with the current state of faculty compensation.
"We are out here this morning for comparable and competitive faculty salaries," Griesbach says in a video of the protestors, distributed via e-mail around campus.
In the same video, faculty member and fellow protester Susanne Meslans says fair compensation of faculty at the college doesn't seem to be important.
"Faculty seem to be the lowest priority for the administration," she says. "When they want money for something they want, it's always there. For us, it's not a priority."
The union's contact with the college ended last July, and negotiations seem to
have stalled over the issue of pay for faculty, but apparently not for leaders, according to protesters. The past 10 years have seen a 49% increase in administrative wages, they say. During that same time, faculty salaries have increased just 7%. And, in August, the EdCC board of trustees gave President Amit Singh a 3% cost-of-living raise, hiking his salary to more than $250,000 a year.
EdCC faculty are planning to be out again on Tuesday morning, signs in hand, to continue the protest.