Girls in Gis Punch the Patriarchy
Although martial arts of all types tend to be male dominated, the Girls in Gis academy, where girls learn Brazilian jiu jitsu, goes above and beyond to represent and support girls of all ages in the martial art. The group, based in Texas since 2009, but now operating in the Pacific Northwest and all across the U.S., encourages women of all ages to join Brazilian jiu jitsu and be a force of female power in a male dominated sport.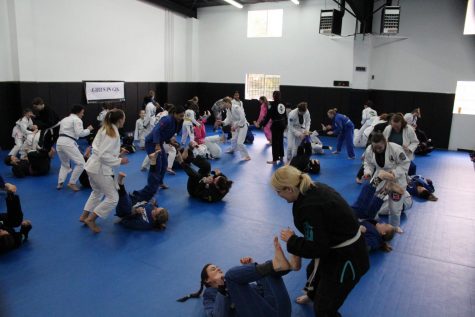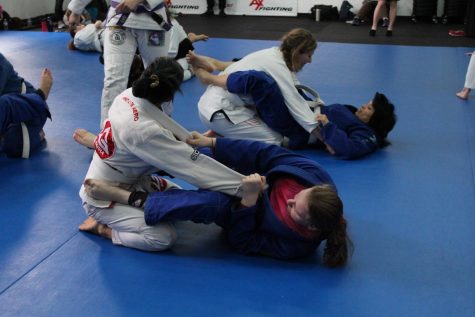 At the female jiu jitsu meet-up at the Team Wise Training Center in Lynnwood on Jan. 20, the feasibility of the Girls in Gis' goal was made clear as 70 girls, ranging from energetic six-year olds to pregnant mothers, showed up. Represented were participants from Whidbey Island, Tacoma, Tri-Cities, Edmonds, Seattle and many other areas in Washington.
Attending the event was Becca Pheasant-Reis, the lead Ambassador with Girls in Gis in the Pacific Northwest. She explained that this was the 10th event for Girls in Gis, and described how her passion for the sport came from the fact it proves that "girls can do everything that the guys can do."
Pheasant-Reis, as well as the other teachers at the event, were all volunteers. Together, they work to make the motto of Girls in Gis, "strength in solidarity," a reality.
Zebra striped and polka dotted leggings peaked out from the girls' gis, the traditional uniform worn in the Brazilian martial art. Before they started, the teachers moved fluidly, working with one another as two halves of a whole to show moves to the girls. Shouts and lively chatter echoed across the large training room, as participants removed shoes and stepped on the large blue mat to engage in this sport that consists of ground fighting and grappling.
The extent to which this sport is respected within the jiu jitsu community was made clear as one could see that prior to stepping on and off the mat, each girl would pause and bow. This action was explained by Jessica Seā, an experienced jiu jitsu teacher, participant, and attendee to the event, pointed out that in her sessions, she always tells students to bow to the mat. This action serves to acknowledge what the girls are about to do, and honor the sport.
Jessica's husband, Steve, came with his son to support his wife. He explained that she has been doing jiu jitsu for 11 years now, and they came up from Tacoma to attend the event. Steve's face lit up when he talked about his wife, and it was clear he was extremely proud of her. Each individual in attendance was there not simply for the art of jiu jitsu itself, but to support and learn from each other whether that be on the mat or from the sidelines.
Each teacher, or "ambassador," as they are known in the Girls in Gis community, shared a passionate reason for their participation in the sport. Jessica proudly explained that "my goal was to lose weight, but now my goal is to prove to the men that we can be there," at the top of a male dominated sport. This idea was echoed by Pheasant-Reis. Ambassador Cynthia Bleckert stated, "this might always be a male dominated sport," to which Pheasant-Reis replied confidently with a, "maybe." Coming from places of equity, body awareness, and confidence, the ambassadors serve as role models for the younger girls attending the event, as well as females in sports in general.
Nicole Bryant, who attended the event with her daughter Riley, offered some insight into jiu jitsu. As she gazed over the mats, she explained that Riley had been a nationally ranked gymnast before switching to her current sport of choice, striking (a type of martial arts). Now, her daughter's gym is the Team Wise Training Center, where she works with a personal coach. Her passion for jiu jitsu and striking led her to this event, which was her first encounter with the Girls in Gis program.
"Many of the girls work 18 plus hours a week doing this," said Bryant. She explained that girls participate in jiu jitsu is not just for fun, but to grow in many other areas as an individual. In her time observing her daughter and other participants, Bryant believes that it takes much more than just hard work to be successful in this martial art – it takes perseverance in all areas of life, balancing family, school, and athletics.
Encountering the Girls in Gis community, one can see how strong the bonds between the participants are, and the joy that jiu jitsu brings them. Although there is a history of male domination, the work of Girls in Gis is proving to be successful in increasing female participation, and turning the meaning of jiu jitsu into something far greater than just a sport.
For students interested in learning more about the martial arts, karate classes are offered on campus at Edmonds Community College.