Gov. Jay Inslee visits EdCC students
Governor Jay Inslee visited Edmonds Community College in the afternoon of April 28 to speak with groups of EdCC students about their experiences and successes in post-secondary programs.
Attendees included State Need Based Recipients, Math, Engineering, Science Achievement (MESA) students and international and immigrant students.
Inslee visited these groups room by room in Snohomish Hall on Friday, speaking first with Opportunity Grant students before meeting privately with international and Deferred Action for Childhood Arrivals (DACA) students. His last student visit led him to the Science, Technology, Engineering and Mathematics (STEM) Study Room, where students were studying until Inslee arrived.
MESA students highlighted the camaraderie and support they gained by being an active part of the campus STEM community, as well as the opportunities that have been made available to them.
Student Trustee Lia Andrews – a First Nations student, environmental science major and Green Team leader – gave a closing statement to Governor Inslee, thanking him for his commitment to higher education accessibility and environmental sustainability.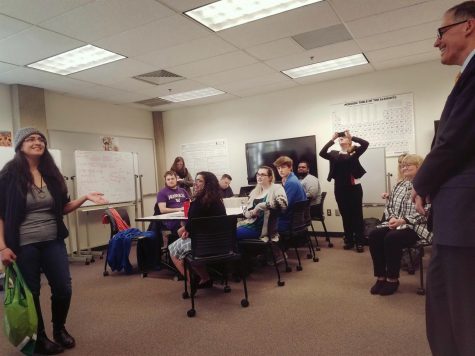 Andrews also commented on her experiences at EdCC and the inspiration she gained from indigenous leadership on campus. Inslee responded by thanking Andrews and the MESA community for that leadership.
"On the Green Team, you need all kinds of talent: You need policy, you need culture, you need community leadership, but you also need invention," Inslee noted. "And the most environmental thing you can do is study mechanical engineering or civil engineering or math, because we gotta develop these technologies to continue the way we live without destroying the planet.
"I'm excited to think there's some of you who may help or find a way to make a lithium ion battery work better – those are some of the things going on right now in our industry, and we really need great people to do that work, so I wanna thank you and your leadership."
Inslee's visit also included an overview of the college's proposed Science, Engineering and Technology (SET) building, currently pending approval by the Washington State Legislature.
The $35 million SET building was proposed in the school's budget and would be a 70,000 square-foot addition to the campus. It is designed to be three stories tall and have eleven classrooms and nine laboratories for multiple STEM fields of study and research.
The SET building is a response to the rise in STEM students enrolling at EdCC. It would be the first new building constructed on campus in roughly a decade.
The SET building plans have lingered for over five years, finally coming closer to fruition when Gov. Inslee embraced the building as part of his proposed capital budget back in December.
"I don't want to assume anything," EdCC President Dr. Jean Hernandez said in an interview following the initial release of the proposed budget. "We have a very high probability of getting it through the process. I am very hopeful that we'll have a ground breaking next year."
Following the announcement that EdCC will start offering its first bachelor's degree this fall, the possible budgetary approval of the SET building would mark another huge step forward for the college.