When graduates at MCC are handed their diplomas, they should feel a deep sense of pride and accomplishment, according to Edmonds College student Adelaide Jaques. 
Jaques, who felt determined to do what she could to help, spent the weeks leading up to last month's ceremonies in Monroe, at a booth with a "Congratulations" banner, set up at various locations around the college, asking members of the campus community to sign it and wish the graduates well. 
The banner seemed to have the desired impact. 
When looking at the banner containing over 250 well wishes, graduates "felt like they actually got to celebrate," Jaques said after the ceremonies. " It's not about decorations, it's not about how it looks, it's about how it feels, and people getting to see their family members, that was the highlight." She continued to explain that the banner was something for the graduates to see and realize that other students cared and recognized their hard work.
Story continues below advertisement
For many incarcerated individuals having the opportunity to receive their high school diploma, GED, or another graduation certificate seems like a distant dream. However, as of 1979, Edmonds College has been an active partner with MCC, in helping provide educational services to those incarcerated at the facility. 
Incarcerated individuals who lack high school credentials are mandated by law to be enrolled in an education program and work for their diploma while serving time. Jamie Calley, Interim Associate Dean of Corrections Education, explained that members of the public are often shocked at "how engaged the students in corrections are. They are thirsty for knowledge, they want to learn…. In corrections they want to be in class, they want to get an education." 
The goal of the Correctional Education program at Monroe is to "educate as many people as we can, and have them continue with education beyond incarceration," Calley explained. 
During each commencement, all in attendance were able to feel an overall sense of pride and accomplishment. Jaques, who's mom is one of the educators at Monroe, had the opportunity to attend all three graduations.
At each graduation visitors and graduates listened as multiple guest speakers including, Kristin Morgan (Education Administrator for Department of Corrections), Dr. Singh, class speakers, and many others shared in the festivities. Calley explained that the priority of the graduation was to keep the ceremony as short as possible and let the inmates have as much time as possible with their loved ones. Besides graduating, students enjoy the luxury of inviting four family members to attend the graduation ceremony. As a conscious effort to help maximize time spent with family, Calley said that making sure to not "take a lot of time with the ceremony" was important.  
One of the biggest takeaways from the graduation was how education truly helps the inmates. Jaques explained how educating just one inmate has a ripple effect, "When a student graduates he tells his brothers, he tells all of his family, he tells everybody who is in there, he becomes the bigger advocate, the biggest one for education." 
Incarcerated individuals are living in a dangerous place where they can easily become a target of violence. Working on their education helps to provide safe spaces not only for individuals to learn, but to also have meaningful conversations with instructors that care about their success outside of prison. Adelaide explained that for many, the classroom is the "only place they felt they could succeed, that they could get achievement, to do anything or be anything." In many ways instructors become the students biggest cheerleaders, providing them hope for a better future. 
Edmonds College's Correctional Education program plans to offer GED and high school plus for students in the Intensive Management Unit (IMU), beginning July 1. By continuing to grow and expand the offered program, Edmonds helps lead the way in changing how incarcerated students are seen. Inmates  "want to be recognized for their academic achievement, they want people to see. The banner was appreciated because a lot of them had never had achievement in their life, so having people recognize that was so foreign to them. They get recognized for being a criminal, they get recognized for everything they have done wrong, getting recognized for something they have done right is so rare and few for them… the banner was expressing that they do have family," Jaques said.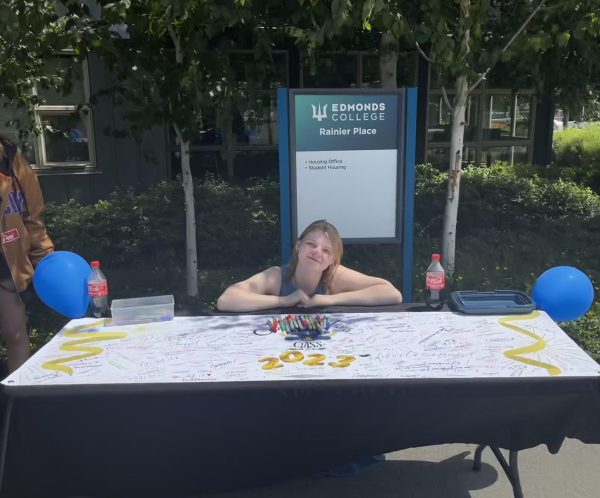 Pathways for incarcerated individuals to choose to complete include: 
GED

High School plus 

Pre-College English

Pre-College Math 

Reentry Life Skills 

Associate in Applied Science-Transfer (AAS-T) in Business Management Degree 

Associate of Technical Arts (ATA) in Business Management Degree

Entrepreneurship and Small Business Management Certificate 

Certificates in: Business Management, Retail Management, Small Business Management Fundamentals, & Basic Business Skills 

Web Application Developer Certificate

Web Development Certificate of Completion 

Construction Trades Apprenticeship Preparation