By attracting half again as many participants as expected, Edmonds College's first blood drive since the coronavirus pandemic hit was a resounding success, according to school officials. Event coordinators had originally planned for a small turnout of around 35-40 people. However, members of the Edmonds College community turned out in force. Throughout the day an estimated 57 blood donations were received.
Last year, as a result of the pandemic, the American Red Cross Association struggled to find community members willing to participate in blood drives.
Eduardo Torres, assistant director of the Office of Student Life, said he was pleased with and impressed by the college's response. "Giving blood is one of those easy things that individuals are able to do that truly helps folks in the long run," he said. "The backbone of the college is the community. Being able to begin to offer these programs is one of the big things I really am proud of and I look forward to planning again in upcoming academic years."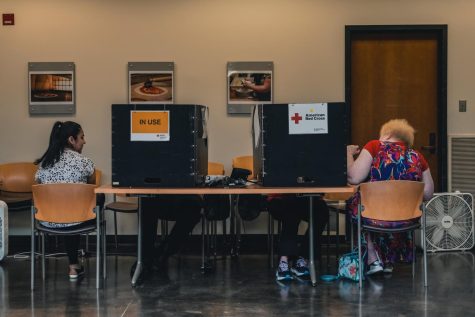 After the recent blood drive, coordinators have been able to brainstorm new ways to improve the overall process of giving blood on campus. One of the biggest points coordinators stress is the importance of signing up prior to the event. This gives both you and the American Red Cross nurses the ability to make donating a seamless process. It ensures participants a time slot which helps minimize lines and wait time, allowing donors the flexibility to get back to their busy schedules.
Story continues below advertisement
Not only have plans been put into motion to help more participants be processed as quickly as possible, many ideas have been circulated on how to make wait times more stress free. Ideas such as including fun activities, ie. board games in the waiting areas, will help provide a fun distraction to those waiting for their turn to donate. Torres explained how one of the primary goals during a blood drive is to make sure everyone is comfortable and well taken care of. Providing games or other activities to promote a fun distraction, and a way to welcome conversation, is just another way people can feel more at ease with the donation process. 
The college is currently planning additional future blood drives – one in the fall, and another in spring. For those interested in participating, Torres said that information will be sent via campus fliers and e-mails as the events get closer.