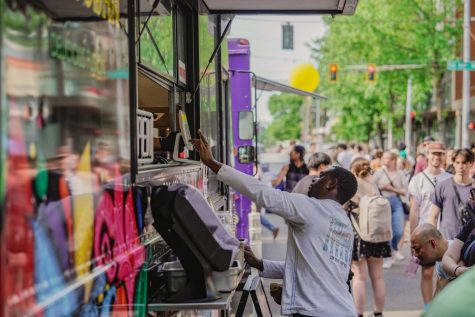 After a two-year hiatus, the U District Street Fair returned to celebrate 52 years! As the longest running street fair in the country, many Seattleites looked forward to this much anticipated event.
The two day fair, May 20th-21st, took place on University Way (The Ave). Spanning over 10 blocks, the streets were transformed into a bustling metropolitan, complete with artistic expression. Growing with each passing year, the U District Street Fair continues to gain in popularity. This year, in support of the beloved tradition of bringing the community together, an average of 50,000 people attended the festivities. Visitors from all over the Pacific Northwest
flocked the streets, eager to experience first hand the various talents on display. The U District fair provides a platform for local artists, makers, and entertainers, to connect with the surrounding community. Attendees were able to immerse themselves in showcases of talent, immense creativity, live entertainment, and mouthwatering foods. As University Way slowly came to life, the rhythms of musicians and performers shook the ground. People from all walks of life got into the groove, smiling wide as they danced in the streets.
A highlight of this year's fair was undoubtedly the assortment of food trucks lining the streets. From savory to sweet, visitors indulged in an assortment of culinary delights representing diverse cuisines from around the world.
The event was made possible by the hard work and dedication of the University District Partnership, local businesses, and volunteers who came together to ensure a smooth and memorable experience for everyone involved. The commitment to showcasing the rich artistic culture of the U District made this fair a must-attend, kickoff to summer event for art enthusiasts, food lovers, and families alike.
Story continues below advertisement