Local brothers aim to fill gap in soccer with new team
Barriers are preventing local athletes from advancing in soccer, at least according to local brothers, Marco and Hawk Mummey. They're aiming to change that. How? Just by starting a semi-professional soccer team.
The Everett Jets FC will be joining the Evergreen Premier League for their 2020 season, with tryouts being held the last week of March. The brothers have wanted to start a team for years, but when the US failed to qualify for the 2018 World Cup they "felt that there [were] some things that could be done differently," according to Marco.
"We're missing a lot of kids," explains Head Coach Vasco Rubio. "I coach a lot of kids now who don't have anywhere to go once they're done […] this is filling a huge gap."
Rubio cites the standard pay-to-play system of many soccer teams as a major factor in many not staying on the field, despite having the talent to make it to the major leagues one day. This system creates an economic barrier for locals, who are often just out of high school or college.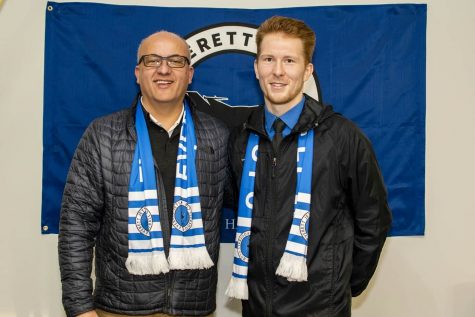 One of these locals is Cameron Beardsley, the first player to sign on for the Jets. Beardsley has been playing soccer for the majority of his life. He's a recent graduate of Everett Community College, where he previously played, and has also played for the Sounders FC Academy. Rubio has known Beardsley since he was five, but emphasizes that Beardsley is on the team because he's earned it, not out of favoritism, though he has been promised a "case of Gatorade" as a signing bonus.
"This is an excellent opportunity to have another shot at organized competitive soccer," according to Beardsley, highlighting that for many the only step after high school soccer is college soccer. This is another barrier for players, who may not be able to afford to go to college, the grades to get in, or it just doesn't fit into their plans. There hasn't been a place for these players to go, at least until now.
When asked who could join the team, all four men quickly said a resounding "anyone."
Starting a team of their own was no small feat. The application process was lengthy, and they needed to be able to prove to the league that they had the financial backing and marketing strategies in place to make the team a success. Finally, it came down to the final vote, the fate of the team was in the hands of their future rivals.
"Every team in the league voted for us to be there, and it was unanimous," said Marco. "We're really proud of that."
Staying local, at least for now, is important to all involved. The owners are local, the coaches are local, the players are local, the sponsors are local.
"I reached out to Marco and Hawk because I saw what they were trying to do for the Everett community," said Jamie Lee, the owner of PNW Physical Therapy, a sponsor of the team, who will assist the players in preventing injuries, and treating them when needed. "I was all in."
Most importantly, the fans are local too.
"Snohomish county has been hungry for a team like this for years," according to Hawk. Marco agrees, saying that "Everett deserves better." Teams in Washington are few and far between, but now soccer fans won't be forced to drive in Seattle traffic and back to see a soccer game, they'll have a team in their own backyard.
Though relatively small now, all involved with the team of big dreams for it. Marco and Hawk's long-term goal is to create a tiered system, potentially allowing them to go national.
That's a long way away for the team, however, as they still have their first season to play. The community doesn't know what's in store for the Jets, but we can only hope that they'll fly high.
Leave a Comment