EdCC's improv show stays true to its name
Fiasco is nothing less than its name suggests. With a new cast and theme each week, every show is a fresh, chaotic, and utterly hilarious improv experience. If you have never seen an improv show, there's nowhere better to start.
Directed by Jennifer Matthews in association with Unexpected Productions, Fiasco is a tabletop roleplaying game by Bully Pulpit Games adapted to an absurd, dark improvisational comedy show. James Morningstar, the creator, describes the game as being "like making your own Coen Brothers movie, in about the same amount of time it'd take to watch one." The theatre adaptation functions in much the same way, with the audience making plot decisions throughout.
The show begins by having the audience choose a setting within a theme. Will the story take place on a trans-Atlantic ship in the early twentieth century or the streets of London amidst the industrial revolution? Don't waste time raising your hand, the plot is determined by whoever shouts first (or loudest).
Next, each of the six actors are assigned character traits defined by their relationship with the two people next to them and a need, object, or location of importance to that relationship. Identical twin sisters desperately try to get their hands on the abandoned 'H' from the sign of a hotel turned motel, ex-lovers work together to regain the money they lost to a swindling father, and how a magician ends up wasting his talents at a childcare center. The cast takes those traits and has about a minute to decide their name and backstory based on them.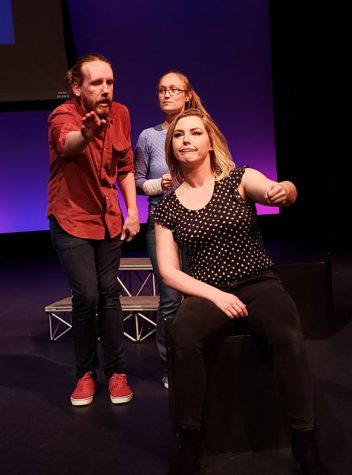 The audience makes the decisions, but it takes a talented actor to bring a set of characteristics to life on the spot. Every choice made by the actors has purpose whether they realize it immediately or not, and what could be perceived as a disadvantage in the abilities of an actor is turned into a new dimension of a brand-new character. When all your co-stars are doing an accent you don't know, you're forced to come up with a reason that can only flesh out the persona you've created even more. Every character feels like a real person you could meet in that setting, not just an object of comedy.
It also takes talented tech staff to create an immersive atmosphere, and this is especially impressive with improv because you don't know where the actors want to take a scene, but it's your job to choose music and lighting fitting for the tone. The technical aspects in Fiasco set the mood and control the atmosphere tactfully and ingeniously, but there is much comedy in subverting the expectations created by the tech staff. The technician is an improv performer as well, being kept on their toes by a character pulling out a gun as Clair de Lune echoes through the pregnant pause of the technician scrambling to play gunshot noises.
The spirit of Fiasco is to create a narrative littered with chaos. The game was inspired by the 'caper gone wrong' trope and almost everything that could go wrong will go wrong. The audience tends to find it funny to create these situations, when given a choice, more often than not someone will choose the most disastrous, ridiculous option. This attitude doesn't only apply to the audience, the actors love making off-handed comments with huge impacts. As a member of the audience, you hold the power to make two characters siblings, and the actor holds the power to call their sister's husband 'Uncle' and completely redefine their relationship. Even when you think you know where the plot is going, and especially when you do, there's a twist that changes everything.
One of the many appeals of an improv show is that this story will never be performed again. You are seeing a once in a lifetime presentation, which can also be painful when you become attached to characters that were invented right in front of you, maybe even partially by you, less than two hours before you'll never see or hear from them again.
The actors do a brilliant job of making likeable characters that you want to see more of or to see the same performance again, but the next best thing is coming to the next show the following weekend because you know the cast is going to introduce a new set of characters you feel the same way about. You'll always want to know more about Magic Marco and the past of his new assistant, but you let them go on Saturday when you see the next set of characters woven right in front you.
Fiasco is held at the Black Box Theatre in Mukilteo Hall at 8:35 p.m. every Saturday until Nov. 9. Tickets are $10 online and $12 at the door. A family-friendly version that tones down some of the more adult aspects will be held on Nov. 2 at 7 p.m. Unexpected Productions has an immensely talented crew at Edmonds and you can count on them to put on an unforgettable show. Bring your friends and don't miss out, because if one thing is for certain, it will be a Fiasco!
Leave a Comment