Hamburger Heaven: Some local eateries to try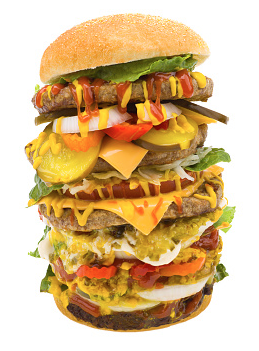 Burgers are a classic American favorite. Due to their popularity, they can be found almost everywhere. From the major chains, such as McDonald's and Burger King to smaller local places like Five Guys and Dick's there are many options to choose from in our local area. There are many factors when it comes to judging a burger place like cost, taste of the burger, variety, and the fries. I have gone to a few local places to find the best place.
Herfy's Edmonds
Herfy's is a local chain with its nearest location being in Edmonds. Herfy's offers a good selection of burgers such as a classic cheeseburger to more unique combinations like their bacon jalapeno burger. Their burgers are just the right size and are packed with flavor. I had a bacon cheeseburger and the ingredients came together perfectly and it was one of the best burgers I have had. The fries were also very good and not overcooked at all. They had crinkle-cut fries which are not too common at most places. The restaurant itself was very old inside and a little messy. Their costs were also quite high. A burger with fries and a drink was close to thirteen dollars which were above average. I enjoyed the variety offered by the restaurant. There were many unique varieties offered and more than one visit is needed to give this place a thorough review.
Five Guys
Five Guys is a franchise that has been in the Seattle area for a few years. Five Guys has known for their large burgers as well as their cajun fries. Five Guy's offers three main burgers: a Cheeseburger, bacon cheeseburger, and hamburger. Although they do not offer so many setting options for their burgers, they have a very customizable menu where customers can add various toppings and sauces to their burgers and also change the size of their burger. In addition to burgers, they also have hotdogs and sandwiches. Much like the burgers, these items are also customizable. The pricing of the items is not too bad and a lot more reasonable when considering the size of the burgers. A burger fries and a drink averages around $10. Their fries are perhaps some of the best fries in my opinion. In addition to their normal fries, they also offer cajun seasoned fries which are extremely flavorful and not too spicy. The service is always exceptional with the food being quick and the dining area being exceptionally clean.
Dick's
Dick's is a local restaurant that is unique to the Seattle area. With only a handful of locations, the nearest Dick's is only a few minutes south on 99 from Edmonds College. Dick's is great for those looking for that vintage American burger. Compared to the other two restaurants, Dick's is a walk-up stand with very little to no outside seating. The menu is also very limited; they have four burger options which all build on their hamburger. The other three options just have cheese or a few basic toppings added such as onions, mayo, and pickles. The burgers are also fairly small. The restaurant also has plain fries. In terms of food, that's it. Although the menu is limited, it is great for those on a budget. One can get a burger, fries, and drink for under $8 which is unheard of today. In terms of taste, there is nothing too special about Dick's it is more for the experience and price. It is perfect for those looking for the perfect old-fashioned burger.
Habit Burger
Habit Burger is a newer burger place with only a handful of locations in Washington. The nearest location is the Aurora Village location. Habit offers a very wide range of burgers, from a classic cheeseburger, or charburger as they call it, to a barbeque bacon cheeseburger and even teriyaki burger. In addition to burgers, they also have salads and many sandwiches such as their prime rib and ahi tuna sandwiches. Habit also has many options when it comes to their fries such as garlic fries, sweet potato fries to their "healthier" option tempura green beans. They also have other sides such as onion rings and chicken tender bites. Habit is between Dick's and Herfy's when it comes to pricing, with a meal costing around $10. The burgers are also fairly average in size. The burgers are very flavorful because of the various options that they offer. Habit is great when dining with those who are not in the mood for burgers. There are many other options to choose from. Their selection of unique sides also makes it definitely worth the trip.
There are many options to choose from when it comes to burgers. Many of these options are just average fast food places that are not too different from each other. There is more to burgers than just the meat cheese and bun. Treat yourself and have a unique and tasty experience at the four places listed above!
Leave a Comment