5th Annual Tunnel of Intersections comes to EdCC, Raises Awareness of Societal Issues
By Emma Johnson
On Feb. 26, the result of hours of hard work and planning came to fruition as Edmonds Community College opened the Tunnel of Intersections – a place to learn about oppressed minorities in society. As described on the college's website, this "exclusive creative brainchild of Edmonds Community College student groups" ran from Feb. 26-28 in the Edmonds Community College Woodway building, consisting of eight rooms through which one could take a tour. Each room represented a different issue or oppressed group, and contained activities, videos and art installations to help the viewer understand what life is like when one is marginalized.
In a tour led by Jules Uong, a 21 year old international student here at EdCC, he explained that this was the fifth time the Tunnel of Intersections has been held at the school. Students, teachers and various board members alike worked together to make this experience possible. "The main goal is to introduce people to social issues, and bring awareness and acceptance," explained Uong.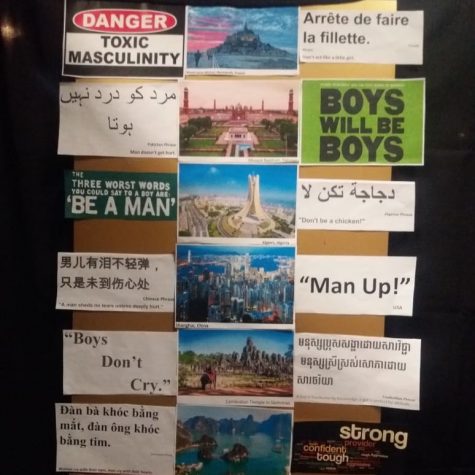 Beginning the tour, one steps into the Voices of Oppression and Resistance room. Focused on issues of oppression such as toxic masculinity, and examining how individuals must rise up against them, powerful posters and statements lined the walls. Uong pointed out a particular poster that consisted of phrases in nearly ten languages, expressing stereotypes that men are often boxed into. "Arrête de faire la fillette," meaning "don't act like a little girl" in French and "aua e te tagi so'o na'o teine e faia lena mea," meaning "don't cry too much, only girls do that" in Samoan, were just two among many moving statements that were displayed.
Moving into the second room, a more serious ambiance descended. This room was focused on immigration, with humbling narratives and historical facts that reminded viewers of the tense climate surrounding immigration issues in America today. "What could you do with $21.6 billion other than building a wall?" asked one poster, with impressive answers ranging from "send about 79,905 people to Harvard for four years" and "fund the UN Refugee Agency for about 5 plus years."
With a diverse study body and 1,400 international students at EdCC, Uong described that "This room is a reflection of our campus right now." Powerful visuals and statements made clear the student's effort to encourage acceptance and understanding across classroom hallways and country borders alike.
Next came the most popular room, which focused on student parents. Uong explained that it aimed to communicate the stress that many parents experience when they return to college, balancing school, work, children, and personal relationships. Posted were stunning facts from Child Care Aware of Washington, such as the fact that only 39 percent of student parents actually have the money needed for college costs, and that these parents work almost 30 hours a week whereas regular students only work about 20 hours a week.
Uong mentioned that "on campus, there is a lack of assistance for student parents -and there are a lot of them." This room was voted the most popular as viewers explained their surprise to learn of the difficulties facing such a large group of students.
Moving on, the Pursuit Workplace Readiness and Students with Disabilities rooms examined the discrimination and challenges facing students with disabilities. To get a better feel for what it is like to have disabilities such as dyslexia, participants were asked to copy a paragraph down from a screen that portrayed words shifting and mixing. Stress saturated the air, as attendees realized firsthand a bit of what school is like for those who struggle with certain disabilities or disorders. However, these challenges extend even out of school as such students try to find jobs in a world where some employers may be hindered by external biases.
Next followed the Social Media in Your Face room, in which social media was, quite literally, in one's face. Colorful advertisements, pop-ups and products hung down from the ceiling, forcing one to stand face-to-face with the harsh world of media. "No social media is inherently good or bad," explained Lauren Benda, one of the students who organized the rooms at the Tunnel of Intersections. Media, she explained, often forces individuals into choosing a single trait that they must adhere to and define themselves by. Identity issues, as well as many other stereotypes and insecurities promoted by media, are all problems facing students face in today's world.
Stepping out of the world technology, the scene changed dramatically as the group entered the Deforestation room. In the center was a large cardboard tree, covered in newspaper and magazine clippings. Leaves draped over the branches with string were covered in phrases and facts concerning deforestation, demanding attention. Members of the group fell quiet, contemplating the true extent to which deforestation has become an issue, as it directly impacts not only the ecosystem and animals of all types, but also creates problems for societies and individuals alike.
Although the journey had been a bit downhearted as it reminded viewers of the many problems facing the word today, hope was instilled in the Faces of Tomorrow display. Photos of students covered walls, as well as reports on the injustices that they believed strongly about. In an effort to show the importance of history, one display composed of reports on significant American historical events posed the question, "where did we go wrong?" In examining history, Uong explained, one can better prepare for the future and use the privilege afforded American citizens to improve the world in unique, individualized ways. These students are the faces of tomorrow and the agents of change.
Art, audio, written pieces and careful presentation were the details that produced the impactful Tunnel of Intersections. Although many argue that there is much to do in terms of reaching complete equality and opportunity not only at EdCC but in the world in general, the students and faculty who created this display took a step towards this goal by increasing awareness about the issues that minorities face.
By Raymond Saw
The Tunnel of Intersections in Woodway Hall, Room 202, was a gallery consisting of black curtains that formed eight rooms. Each contained the experiences of students to share with people who do not know the misfortunes that go on in America. This was its fifth annual showing, but as someone who went through the fourth, it was not all that new of an experience for me. There were differences in the material used, but the overall objective of the event was the same.
On Feb. 26, the first day the Tunnel was open, Woodway Hall was quiet. It was half past one o'clock in the afternoon when I was looking at the two red paper curtains stuck on the walls. In black marker, people had written messages expressing their gratitude, likely towards the people that put their hard work into the Tunnel. I had only given one curtain a glance, remembering that I did write on one last year, before spotting a group of people by the entrance into the room that contained the Tunnel. Talking to them, I was led inside Room 202 for the interview.
Gem Baldwin, Instructor for Anthropology and Faculty Chair of the Tunnel of Intersections Volunteer Team, explained the purpose of the event. "Each room is like a micro-culture in how it relates to the world, meant to share and create connections and to advocate our community on culture."
Most of the team behind the making of the Tunnel was composed of student volunteers, many of who were Baldwin's students. There were staff members involved as well, but the students that wished to share their poor experiences played large roles to hold the latest Tunnel of Intersections.
In the interest of further detail about what goes on in the Tunnel, I was taken on a one-man tour with Erin Lockleer, a volunteer acting as a tour guide. She is a student is bioanthropology, focused on a degree in Human Development, and a member of Social Human Services.
The Tunnel's layout was that of a small complex, made up eight rooms and one hallway. Four rooms were divided on both sides of the hallway, and we were to enter through either of these series of rooms from the entrance. We could exit the room we were in at any time through a closed curtain we could go through if there was an emergency, or if the room was too cramped. There had been a full tour group behind us that interrupted my tour, prompting us to go through the other series of rooms before returning to finish our first. This was a sign of a considerate team that built a gallery for their audience.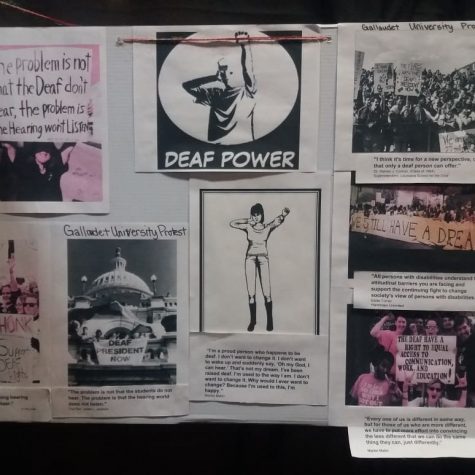 The eight rooms had their own names, each addressing an issue in America: Marginalism, The Wall Room (about the one blocking immigrants into America), Social Media, Deforestation, Disabilities,
Faces of Tomorrow, The Baby Room, and the Pursuit Workplace Readiness Room (about people who need jobs). At first glance, the presentation for each room was simple. Most rooms used paper and cardboard, but others had electronic devices, whiteboards, tables, even a cradle with a baby doll. Each room was clearly not done overnight, particularly the Deforestation room, which had a cardboard tree covered in paper mache complete with a device playing the natural sounds of a forest in the background.
At the end of the gallery was a "Reflection Tree," a flat cardboard tree pasted to the wall, where the pinned leaves were notes of encouragement left behind by some people who walked through the Tunnel. The idea was that the tree became more and more complete as people "helped" the tree grow, full of inspiring messages thought up by individuals who spared the time for it.
The Tunnel was full of rooms containing experiences hardly unique to those students who experienced them. These issues are well-known on a global scale. These problems are not rare. The particulars of those victims may be different from one to another, but in a world of eight or so billion souls, this is hardly new.
But the idea of the Tunnel of Intersections exists to let people learn about America's dark parts. The people who are still experiencing those things are still out there, maybe in need of help, maybe leading good lives despite their problems. But they are still left unknown by many people who could help them.
The Tunnel is there to let people who want to help know what they could do to make the world a little better. People should take a moment to walk in someone else's shoes, so next year, there will be another Tunnel waiting to be walked through. We as humans have a desire to know about issues like these that happen around us.
Leave a Comment