Snowmageddon Comes to Town
College Ravaged by Snow Storm
Western Washington saw record-breaking snow these past two weeks, with a total of 20 inches of snow coming down around the Seattle Tacoma Airport area.
Edmonds Community College closed Mon. Feb 4-5 and 9-12, with late-starts on Feb. 6, 13, and 14, and closing early on the Feb. 8. The six days of closures, along with the late starts and early closures, have caused a myriad of problems from class deadlines needing to be rescheduled to a spike in car accidents.
The writers for the Triton Review did some investigating into the effects that the snow storm has had on the EdCC community.
As reported by Emma Johnson,
During the recent snow apocalypse of Washington, 18 year-old Edmonds Community College student Tiffany Wong was able to experience a winter wonderland on campus. Originally from Hong Kong, Wong is in her second year at the college, hoping to transfer to a university in pursuit of a business degree. Wong described that this was the most snow she had ever seen at once, and since she lives on campus, the parking lots served as a ginormous playground for campus residents experiencing this strange weather.
At first, Wong described, it was just her and her boyfriend out in the snow. But after an hour or two, the glittering cushion drew most of the students out of the dorms and thus commenced the snowman building and snowball fights. Never having encountered such weather in Hong Kong, Wong explained that while she had previously seen snow capped mountains in the U.S., she had only actually experienced snow being a student here at Edmonds Community College. Discussing the lighter snow of last year, Wong said "I was building a snowman in my jeans," and laughing added, "I had never even bought gloves before." A few minutes trying to build with bare hands quickly prompted Wong to make the smart purchase. Many other international students found themselves similarly ill-equipped to handle the snow, but that did not stop them from enjoying the rare, if chilly, experience.
Luckily, the students in dorms at Edmonds Community College had consistent access to power throughout the snow days, and were able to function normally as the buses that many rely on were in operation (although a bit slow, according to Wong). It seems the snow offered a fun and unique break from school, especially for students living on campus like Wong.
As reported by Brent Anderson,
For Elizabeth Frederickson, Washington's "snowmageddon" brought a slurry of ups and downs. Ms. Frederickson is the Associate Dean for Instruction at Edmonds Community College whose responsibilities include establishing workshops and committees for the improvement of faculty teaching practice. One such committee involved a meeting for a state-wide research project encompassing 25 colleges on Feb. 8, but the weather had other plans for this momentous get together. With the unceasing deluge of snow showing no signs of relent, Ms. Frederickson, among other committee members, was forced to cancel the meeting thus pushing the date into March.
However, it wasn't all headaches and disappointment for Ms. Frederickson. "I got to catch up on some reading," she said. "And I broke out the cross-country skis and did some skiing with my daughter." Additionally, as a resident of North Seattle, Ms. Frederickson was within walking distance of the grocery store and could meet her needs with relative ease by circumventing the chaos of snowy traffic entirely. She even took the time to shovel a path for her pet cat to get through the snow, showing real dedication to her feline friend.
While so many across the state were suffering from outages, Ms. Frederickson was extremely fortunate to not lose power during the Washington whiteout. Now that she has returned to campus she is diligently focused on catching up on her work and hopefully for her sake, as well as all of ours, the weather will abate.
As reported by Miriam Urie,
The snowplows seemed like the mythological Sisyphus – they constantly cleared snow only for more to fall around them. Even in this, EdCC students Michael Buchanan and Skylar Maneski found a way to practice. With the baseball field covered, they threw a baseball back and forth across the Rainier Place parking lot. Buchanan particularly wished for the readers at the Triton Review to know that their teammate, Zach Archibald, did not come out to practice with them. But don't be quick to tease Archibald, it's possible that he redeemed himself in later days. On the team's Instagram, a similar story played out. The post showed three unnamed students in front of a garage door. One threw snowballs for the other student to hit with a bat. We certainly have a dedicated baseball team.
As reported by Bonney Ottow,
Dana Parker is Assistant Director at the TRIO office at Edmonds Community College.  Dana lives in an apartment complex in Lynnwood, but is originally from Missouri so has experienced snow days throughout her life.  "Nothing like this though" she said.  "In Missouri snow is a regular part of winter life and everyone knows how to drive in it.  Roads are continuously plowed and salted for driving, plus, there aren't all the hills!"  At her apartment complex the streets were not maintained at all, it was up to each person to decide if they could drive in it.
Dana said she enjoyed the week of being snowbound.  She is writing her dissertation for her PHD in Higher Education, so this extra time to focus on that was welcome.  When asked if she ventured out of curiosity, or to play in the snow, she said " I was just fine staying indoors, watching the local news and seeing stories about everyone who was out there.  It was most certainly entertaining."
Today was Dana's first day back to work, and she doesn't regret the "snowmageddon" break, although knows there are people who did have to work, and others for whom this caused hardship.  She is glad things are returning back to normal.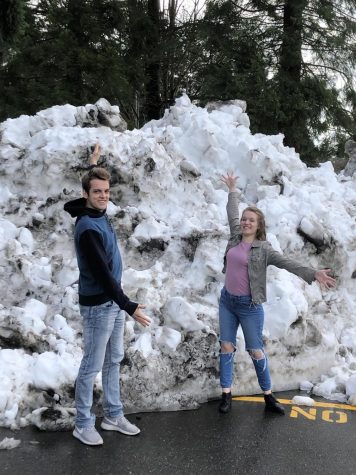 Leave a Comment