Student Diversity Center opens it's doors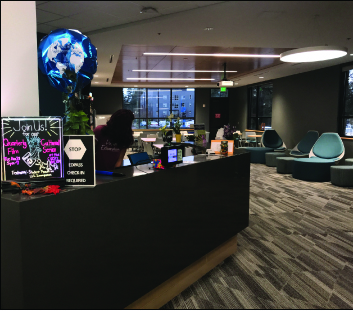 Hang on for a minute...we're trying to find some more stories you might like.
Walking into the Center for Student Cultural Diversity & Inclusion feels like stepping into a completely different building. Its warm and inviting atmosphere welcomes you in and the peaceful quiet makes you want to stay.
The newly renovated room is also known as the Diversity Student Center, and while the location is new, the center has been at Edmonds Community College for years. The purpose of the center is to promote student diversity events, as well as provide resources about student life, scholarship information, and most importantly, a safe space for all, regardless of sexual orientation, gender identity, race, or socioeconomic status. The Edmonds Community College student body is incredibly diverse, with over 1,500 international students. Having a safe space for all students is important, and reassures students that they have a place to go to feel included and heard.
The Student Diversity Center boasts an impressive list of amenities for the student body. There are two reflection rooms in the new center, and students are encouraged to use these as a place to calm down, relax, put away their electronics. They can also be used as a prayer room. Students pray in many different ways, and the reflection rooms give them a safe, secluded and quiet space to worship. They're also encouraged to bring their religious texts to read and ponder. One room includes a small calming water fountain and a few chairs, as well as a generously donated prayer rug.
Diana Bustos has been the program manager for 11 years and counting, and she's nothing short of ecstatic with the new space. She talks about the reflection rooms with a strong sense of pride and respect. "It's dividable and can hold, depending on the configuration probably up to 20 people who want to pray, meditate or reflect. That's something that students wanted. They were displaced and you'd see them praying in hallways," Bustos says being fully aware of the need for a safe space for students.
"We're understanding that people come from many different cultures and with them, they often have religion as part of them, as part of their own self, their own being and we embrace that and say come as you are, we want you here, this is a welcome and inclusive center," explains Bustos. "You don't have to set aside your religion and come here. We want you to come here as you are. We accept you as you are. You belong here."
That feeling of welcome is evident when one enters the room, and is the ultimate goal of the center, and the staff. A repeated sentiment is the desire for students to feel welcome, to have a place where they can be themselves, and to have a place where they feel they belong.
The new and improved center has been a long time coming. Student government has been advocating and fighting for the space for the past five years. Their previous residence was not reflective of the goals the center wanted to achieve. "We were displaced about 10 years ago and we were located in… in an available storage closet, about 280 square feet and resided there since 2009," Bustos says. She explains that the limited space they were given made it near impossible to help students in the way they wanted, and without the resources that are now bringing them success.
"It was so disappointing when we were there because we would see people come to the door, take one look around, it's closed in, there's no windows, it's small, you can't really navigate, people in wheelchairs couldn't come in and navigate in there."
Their goal to be welcoming and warm to all students was just not fully achievable in a small and limited space.
Student government pushed for a bigger, better space that was accessible to all students because they took notice of the growing population of an ethnically, religiously, and gender- diverse student body. To put it simply, Bustos says, "We are accommodating that and added many new services, services we didn't used to have because now we can in this environment. This room holds 90 people, the one upstairs held 8."
The new center allows newer and improved-upon services. They offer 17 laptops for student use, for four hours at a time, and they may be used anywhere on campus, not just in the center. They also offer an exciting printing program they've improved, "What used to happen in the upstairs room is we had 3 desktops, and you had to wait in line at the desktops to print and sometimes we would get 5 or 6 people just waiting to print. You don't have to do that anymore," Bustos proudly exclaims.
Ange Assamoi is the Diversity Student Center's office assistant and encourages students to take advantage of this program, "We have a free printing program, which is 10 pages per week, but the only thing you have to do to be eligible for the free printing, you have to do a survey and volunteer for an event, and you have to come to that event. You can do the survey, and right away print, but you have to come for only one event for the whole quarter."
The list of services only grows and gets better, as they also offer a free book borrowing program. Their impressive library is collected by student donations and is available to everyone. Students can simply borrow a book, and return it at the end of the quarter, free of charge. The books borrowed can be for fun, for studying, or even required textbooks. Just at a quick glance, there were a variety of books to browse, from SAT study guides, to Martin Luther King Jr. biographies.
Scholarship information can also be found, which is always important to any student from every background. Assamoi is excited about the opportunities their scholarships can offer, and is available for questions, adding, "If you want information about scholarships just come here and see me, we have a flash drive. We have a flash drive which has all the information for scholarships by gender, by major, for everything."
Each month, the center is decorated with a different display according to multicultural celebrations, and prominent events like Black History Month in February. Currently, the center has an advertisement for their scholarship information, and in October they had a Dia De Los Muertos display of sugar skulls decorated at a successful student event. In the coming months, they have plans for a Martin Luther King Jr display, as well as Kwanzaa decorations.
Another important aspect of the center is the student staff. They're all very kind and are happy to answer any and all questions. Bustos is proud of her student staff, saying, "They themselves are very diverse, they're all from different cultures, and when we have a diverse staff like that people start to see themselves represented and that fuels a more welcoming environment."
The success of the new center is evident. Bustos proudly boasts their success, "In only 5 weeks of being here, we surpassed the amount of students that visited us all of spring quarter last year, so we're already at 1000 visits from students and so we're seeing that too," She attributes this to her student staff, "They themselves are very diverse, they're all from different cultures, and when we have a diverse staff like that people start to see themselves represented and that fuels a more welcoming environment,"
"We're seeing it used as a study space, as a gathering space, as a cultural environment. Everybody's feeling like it's a safe zone, and that's what we're ensuring too. And in a safe zone, that could mean many things but especially means that everybody is welcome to come here and be who they are."