One student can make a difference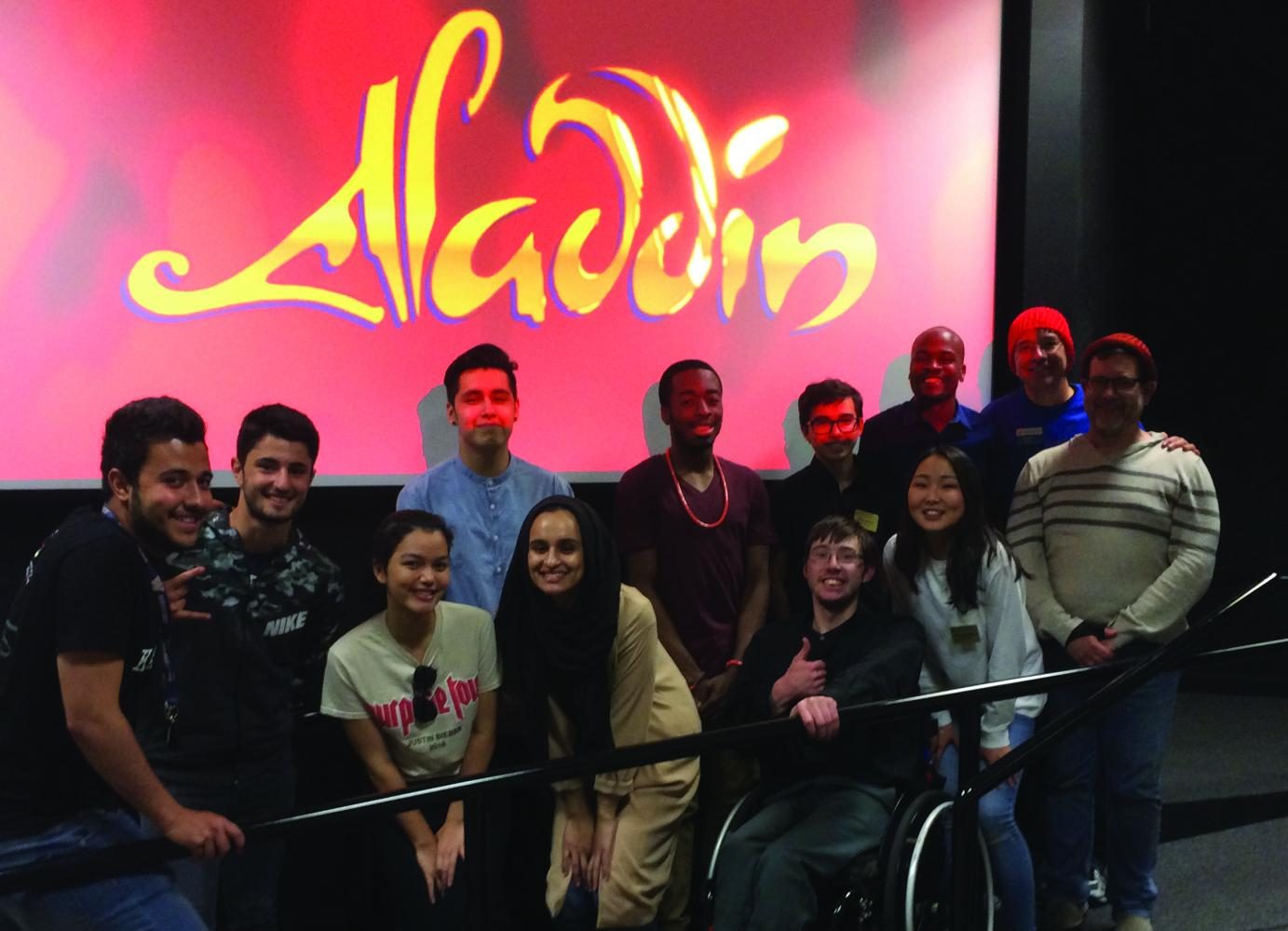 Thomas Fairchild, Editor-in-Chief
June 7, 2017
At the May 19 Services for Students with Disabilities movie night, Robert Barker did something most of us take for granted: For the first time, he ascended the stage in Woodway 202 without any assistance.
"It is amazing for me to finally be up here on the newly ADA compliant stage," he remarked with a grin after effortlessly rolling his chair up the ramp. "Thank you Edmonds Community College for continuing to stick with your core value of being an inclusive institution of higher education."
Robert Barker has been the student programmer for the Services for Students with Disabilities (SSD) since January 2016. At that time, the stage in Woodway 202 had no access ramp.
Barker first noticed the lack of access while preparing for his first SSD movie night in February of last year, when they showed the movie Mulan. He brought up the issue to the Director of SSD, Craig Kerr, who admitted the stage lacked access for all students.
"Well, we need to change that," Barker said.
As Kerr introduced the first movie night, he quickly realized not having a ramp on the stage sent the wrong message to the audience. "This is not really equitable," he reflected in an interview. "I have to hand the microphone to Robert, and he's not going to be standing on the stage. So what does this look like?"
Barker and Kerr ended up sitting on the edge of the stage together, in order to avoid the appearance of inequality. Still, this temporary solution had its drawbacks.
"I felt I was looking up to people, not even making eye contact with my audience when I was talking with them," Barker mentioned later. "I did not like that feeling at all."
Kerr decided to immediately act on Barker's request that the stage be made accessible for all. After all, this lack of equal access was a violation of federal law.
The Americans with Disabilities Act of 1990 (ADA) guarantees all individuals equal access and opportunity by prohibiting discrimination against people with disabilities. This means the college is responsible for ensuring all of their construction projects are compliant with ADA standards and regulations, such as alternative access for those who cannot climb stairs.
Kerr held formal conversations with Stephanie Teachman, director of facilities, and Wayne Anthony, director of student programs, informing them of the Woodway stage's ADA noncompliance.
The issue had been brought to Teachman's attention before, although no solution had been implemented yet. She previously looked into different accessibility options for the stage, including a lift.
Facilities already faced pressure to replace the stage – at that time a temporary modular unit – as fire code required the stage be replaced with a permanent option. Teachman saw the ADA noncompliance as an opportunity to include equitable access in the design of the replacement stage.
Anthony mentioned a reserve of student Service and Activities fees that could fund the project, if student government voted to approve the expenditure. Since the goal of the project was to adhere to ADA and fire codes, Teachman secured capital funding from the emergency repairs and improvements budget to pay for a new stage and ramp.
Normally, the college hires consultants to help with the planning and permitting process, and to ensure designs are up to code before they are constructed. "Whenever you have code compliance issues at the college, it has to be done," Teachman explained.
The motivation behind the project was more than just legal. "There's also the moral obligation," mentioned Anthony. "[Access] shouldn't have to be a struggle."
Both Teachman and Anthony noted the straightforwardness and simplicity of the project.
"It's one of the few times that I've been around here that things have – from start to finish – been done in a reasonable amount of time, the money's come up and the motivation for it was there," Anthony reminisced. Anthony has been an employee of the college since 1984.
He explained the reason the project moved forward so effortlessly had mostly to do with the people involved.
"I think the people that really deserve the credit are Stephanie and Craig Kerr," Anthony shared. "With every project there's a champion, and I think Craig was the champion on this one."
For his part, Kerr was centrally concerned with the message the ADA noncompliance sent to the community. "If you have an inaccessible campus, what you are really saying is, 'you don't matter,'" he asserted. "People can say all they want to. The proof is in the accessibility of the campus."
Barker said he is happy with the speedy implementation of the ramp, but annoyed by the fact that it took him speaking up for a change to be made. "Why? Why am I the first person to say something?" he asked. "That's a little irritating, personally."
Barker grimaced and laughed nervously when asked about other areas of inaccessibility on campus. He mentioned frequent elevator breakdowns and doors without automatic button openers. Since the beginning of 2017, the college has had at least 11 reported elevator outages and five safety tests, which disabled elevators for anywhere from one to six hours.
Why did Barker decide to take action? Not for himself, but for future classes of students. "Anyone else who wants to get on the stage that couldn't now can," Barker explained. "Even though they may never thank you, it's just amazing seeing their facial expressions and how happy they are."
Barker lives on campus in Rainier Place and will be graduating from EdCC this quarter. He plans to transfer to university in the future. For now, he is thinking about taking the summer to crochet and knit, selling items online. He is also considering getting a job with the Office of Civil Rights; one of his future goals is to become a civil attorney.
"There are aspects of the ADA that my peers do not like, and I don't like it," Barker shared. "If I don't like something I want to see if I can change it, if it benefits everyone else."
Barker's initiative in raising the alarm on this issue is an example of laudable student action on campus. Barker mentioned he feels great to have left his footprint at EdCC. Having secured access to the Woodway stage for posterity, he certainly deserves to.