The first thing students notice when walking into the Edmonds College library is not the rows of books lining the shelves, but rather the librarians smiling faces. 
Whether it's assisting a first-year student understand how to use MLA correctly, or helping a student find a captivating book to read, Edmonds librarians say they are on the job and eager to help. 
"We're your cheerleaders," said campus librarian. "We can't grade you so you can trust us," said Claire Murata.
Two of the college's four full-time librarians and the library's Associate Dean spoke to The Triton Review about their work helping students navigate the abundance of resources the library has to offer. 
Story continues below advertisement
Working full-time for the past eighteen years, Meryl Geffner, one of three Reference and Instruction Librarians on staff, has had many responsibilities. From organizing the library book displays to teaching students how to evaluate sources, Geffner has made it her mission to help students navigate the large world of information. 
As many students sift through the myriad of shelves in the library to find their required books for class, it is easy for them to forget to pick out a book to read for their own pleasure. So, to catch students' attention, Geffner takes it upon herself to carefully curate the book displays around the library. 
She said, "I highlight books from people from communities that have been historically underrepresented…and have displays of issues and topics that students would be interested in."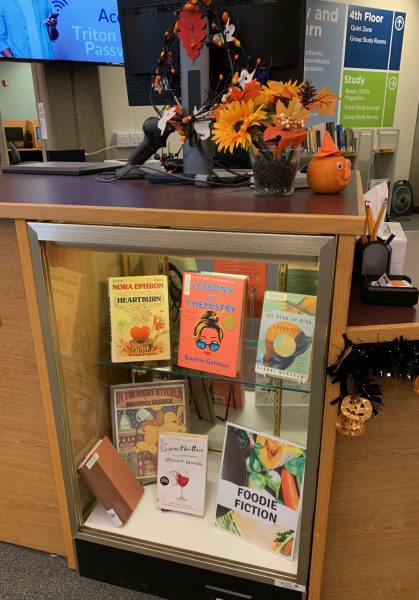 By displaying books students find interest in, Geffner hopes that students will feel inspired to relax in the cozy environment of the library while reading a book for fun. 
Growing up, Geffner loved reading at the public library and, as a response, felt she was being called to become a public librarian herself. However, she soon learned that simply wanting to become a librarian wasn't enough. Dropping out of school, unable to get the required Master's degree for becoming a librarian, Geffner felt disheartened, spending many unhappy years as a paralegal. However, not ready to give up on her childhood dream, Geffner went back to school, this time obtaining her Master's degree and becoming a librarian.
 Through her graduate program, Geffner was able to secure an on-campus job at the Seattle Central Community College (SCC) as a library assistant. This job helped her to realize that she preferred to work at a community college, because she would not have to participate in what she disliked the most about being a public librarian–" police the space sometimes." After her time at SCC, she bounced around working part-time in other libraries, including Shoreline Community College, before settling down at a full-time position at the Edmonds College Library. 
Similar to her colleague, Johnetta Moore, another Reference and Instruction Librarian at Edmonds College, never expected that she would still be working as an on-campus librarian after 23 years. Although she thought that working in the Edmonds College library would be only a one year pit stop in her professional journey, she quickly fell in love with the library's values and its focus towards helping students succeed. Having a library aligned so closely with her own firmly held beliefs made it an easy decision for her to make her temporary stop a permanent one. 
Moore's journey, in becoming a librarian, was initially sparked by her fascination of how the power of finding and organizing information in people's reach makes a difference in their lives. Previously working as a legal assistant for an Alaska law firm, Moore was accustomed to being responsible for managing and organizing documents for attorneys. It was during her time as a legal assistant that she discovered her passion for information. 
Now, working in the Edmonds College Library, Moore is constantly searching for information, an activity which she fondly calls "the hunt." When asked to explain what one of her favorite parts of her job is, she explained that being able to teach students how to "hunt" and find information for themselves brings her a lot of satisfaction. 
Mirroring her coworkers, campus librarian Claire Murata lived an eventful life before assuming her role as the helpful librarian students know today. Fresh out of college, and uncertain of her future, she happened to attend a dinner that would change her life. During the dinner, one of the attendees gave her career advice; to get an English teaching certificate and teach abroad. Attracted to this idea, Murata went back to school, earned her English teaching certificate, and began teaching English around the world. 
Soon after she began teaching abroad, her worry free expectations were challenged when two unexpected catastrophes occurred. While teaching in one country there was a large earthquake, and in another country, a coup occurred. Feeling concerned for her safety she returned home. It came as a surprise that at another family dinner, Murata's life took another unexpected turn. 
At that dinner Murata received advice from another attendee, this time a librarian. The librarian suggested that she consider joining the librarian profession, because it was a great way to give back to the community. Convinced by the librarian's words, she took to the path of becoming the librarian she is today. 
Currently Murata serves as the Associate Dean of Library and Learning Services. Recently she has worked to promote an alternative to expensive textbooks, open educational resources on campus, and does her best to help students succeed.
Although each of the three librarians; Meryl Geffner, Johnetta Moore, and Claire Murata, took their own unique path to arrive on campus, they all agree that helping and ensuring student success is their favorite part of their job. 
So next time you visit the library at Edmonds College, remember that hiding behind each of their warm smiles, these three librarians hold the keys to a vast treasure trove of wisdom and experience that any student can access by simply striking up a conversation.